Flow Surfskates Review: Are They Worth It?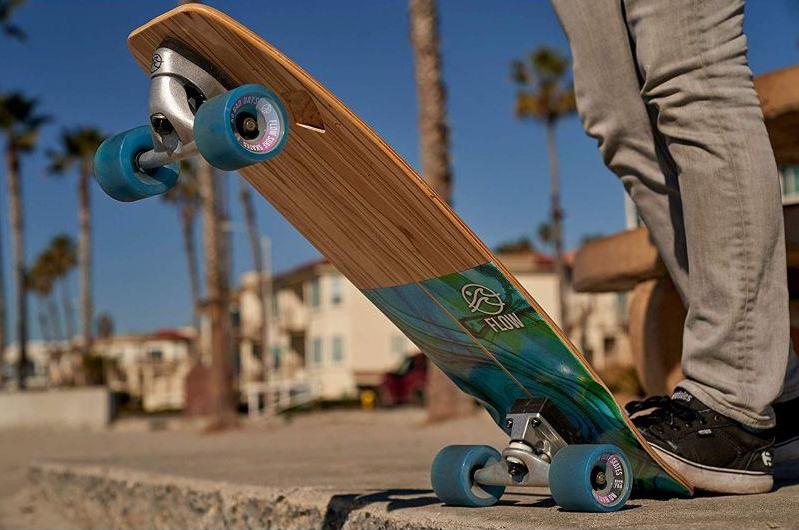 Flow surfskates are one of the cheapest surfskate brands on the market. But is it worth it to buy a Flow surfskate, or should you save your money for a better surfskate?
Bottom Line Up Front
Flow surfskates use the original and very outdated Slide V1 surfskate truck. The Slide V1 has a design flaw that gives it a much more limited range of motion compared to the V3.
The Flow surfskate truck does not function well at all. It's tight and hard to pump. If you pump it hard, you hit a hard stop that can toss you from the board.
I do not recommend Flow surfskates at all and I highly recommend that you choose a surfskate from my list of the top 10 surfskates instead.
On their website, Flow Surfskates offers six models ranging from 29″ to 33″ in length and $169.95 to $179.95 in price. However, you can find two or three models on Amazon for between $130 and $135.
The Decathlon Carve 540 surfskate sells for $129, so this puts Flow surfskates in the same category of the cheapest surfskates on the market.
The big question is, is it worth it to buy a Flow surf skate, or should you spend the money to get a higher-quality surfskate?
After testing more than 60 surfskates since October 2020, which includes 30 different surfskate trucks, I'll tell you my answer to that question.
If you want to save time, money, and hassle in choosing your ideal surfskate, get my free Surfskate Selector app now.
The Flow surf skate truck is version 1 of the same basic surfskate truck design used on Slide surfskates, except Slide surfskates use version 3. (I have no idea what happened to version 2 and I've never seen one.)
Unfortunately, I'm not a fan of the Flow surfskate truck at all and I strongly recommend that people stay away from Flow surf skates.
The reason is because the Flow surfskate truck (version 1) has a design flaw, which was fixed on the Slide surfskate truck (version 3).
Here's a picture of the underside of the Flow surfskate truck from their website:
The problem is that when you pump from side to side, this screw:
…knocks against the truck baseplate on the sides here:
What this means is that the Flow surfskate truck has a very limited range of motion — much more limited than the Slide V3 or other legitimate surfskate trucks.
Furthermore, when you pump it aggressively, that screw smacks against that baseplate hard and stops you cold. It can even toss you off the board if you're not careful.
The Slide V3 surfskate truck fixed this issue. They made the truck bigger to accommodate the swiveling motion underneath the truck, without the swivel arm smacking against the baseplate.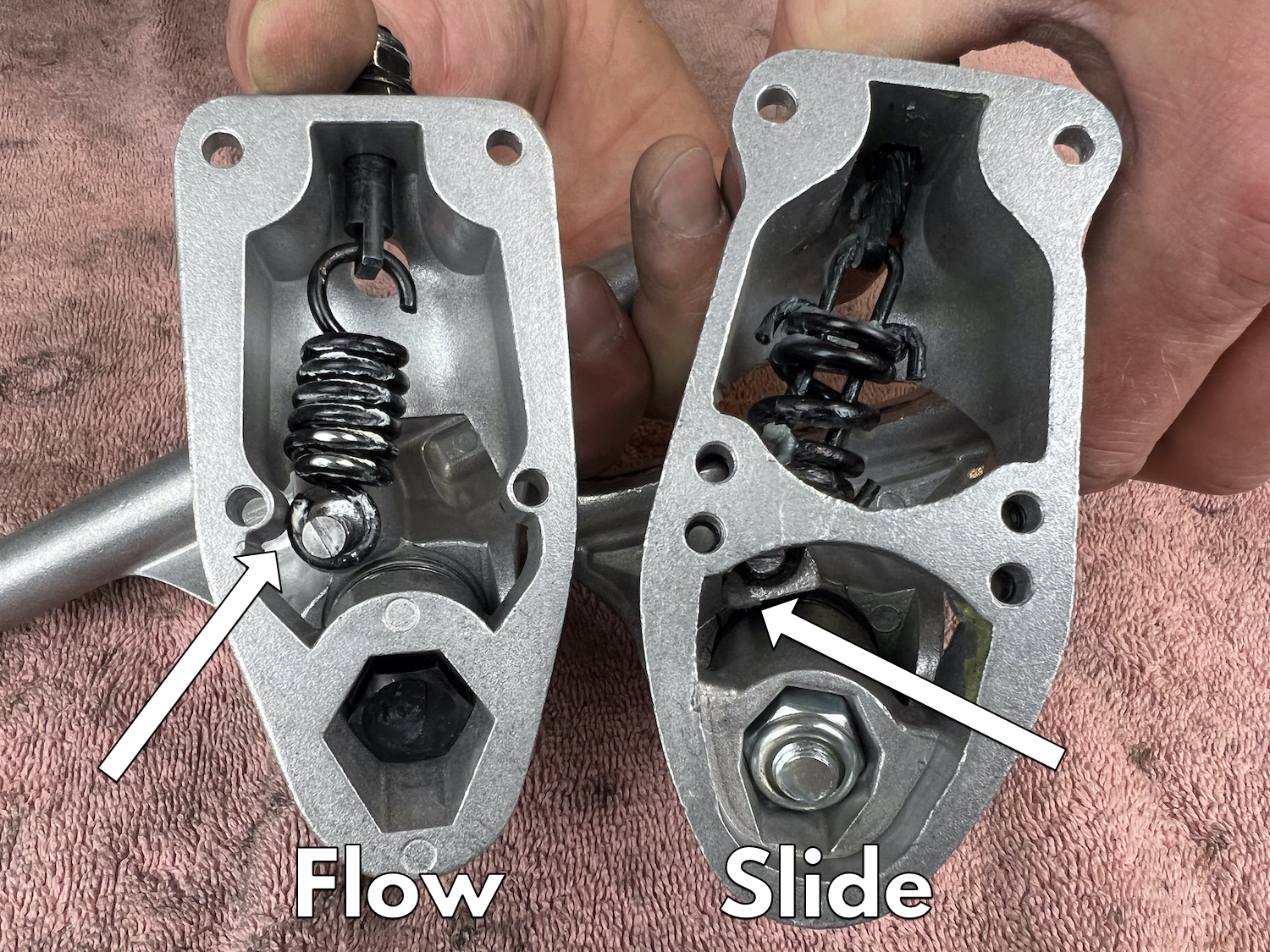 As a result of the design flaw on the Flow surfskate truck, the Slide V3 surfskate truck has a much wider range of motion.
Compared to better surfskate brands, Flow surfskates do not pump and carve well at all.
They have a smaller spring than the Slide V3 surfskate truck, which makes them hard to start pumping. It gets a little easier once you're moving. But then you run into the problem of that swivel arm smacking against the baseplate of the truck as you pump from side to side.
Not only does the Flow surfskate truck have a hard stop, but it also has very little rail-to-rail lean. Furthermore, it sits very low to the ground. These factors make it very difficult to carve tight lines without getting thrown from the board.
I personally think the cheaper Decathlon Carve 540 surfskate pumps and carves better than Flow surfskates.
Flow surfskates are intended for beginners, and the Flow surfskate truck is very stable. So you would think they would be good for beginners.
However, my experience is that Flow surfskates are not good for beginners at all, for all the reasons I've already said. They simply do not pump and carve well at all.
As a beginner, a Flow surfskate might work okay for you to start with. But you'll quickly find that you'll outgrow it and want a surfskate truck with a wider range of motion that is easier to pump and that carves better.
I also don't think Flow surf skates are good for kids because they are actually harder to pump than higher-quality surfskates.
Although the low price is tempting, I don't believe Flow surfskates are even functional enough to be worth the cost. My humble opinion is that you're better off saving your money to get a real surfskate.
Flow surfskates are hard to pump in the first place. Then, once you start pumping them hard, the swivel arm underneath the truck hits the truck baseplate, which stops your pump hard. If you pump too aggressively, it can even throw you from the board.
All the component parts of Flow surfskates are exactly what you'd expect from such a cheap board: cheap quality.
Instead of a Flow surfskate as your beginner surfskate, I recommend you try a Slide or Carver CX. It's well worth the extra investment to get a surfskate that you can grow with as you progress as a rider.
For more help with choosing the perfect surfskate for you, get my free Surfskate Selector app now.