Hi, I'm Steve Palmer, the founder of Surfskate Love. I live in St. George, Utah, just north of Las Vegas. It's a gorgeous desert with 300 sunny days a year and the home of Zion National Park.
In March of 2020, COVID-19 rocked the world. I was 43 years old. I had never skateboarded or longboarded in my life. Along with everyone else, my family and I had to find ways to occupy ourselves during quarantine.
That's when we discovered longboarding. It took me about a week before I was totally hooked. My first love was a 44″ bamboo pintail cruiser. She and I spent hours on hours together riding the trails behind my house and every hill I could find in St. George.
It wasn't long before my longboard collection started growing. I went through various cruisers, drop decks, free ride boards, dancing boards, you name it.
In my longboarding research, I stumbled across surfskating. I watched tons of surfskating videos and decided to buy a surfskate.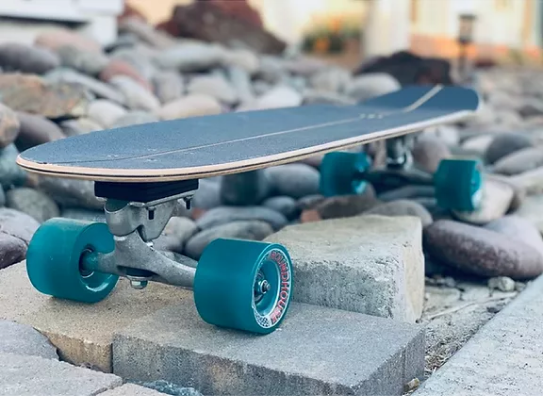 I spent months researching different surfskate brands, surfskate trucks, and surfskate models. From my research I chose the surfskate I wanted: the Carver 36.5″ Tyler 777.
Unfortunately, because of COVID, the model wasn't available anywhere. I searched dozens of online stores for over six months.
Then, lightning struck. While on a surfing trip in Carlsbad, California, I called Status Skate Shop, which was just two miles from my hotel. They had the Tyler 777 I had been searching for.
I rushed over and snagged it.
I spent the next few days in Carslbad and Oceanside falling in love with my new Carver and the sport of surfskating.
I thought I was hooked on longboarding. But after experiencing a surfskate, I never looked back. Surfskating was a whole new level of freedom and fun.
Since my first Carver, I've purchased more than 60 surfskates from 27 companies in 11 countries around the world, which includes 28 different surfskate trucks.
First Day Riding My First Carver, the Tyler 777,
in Carslbad, California
It's a rare day that you won't find me out surfskating, enjoying the beautiful St. George weather and one of the funnest board sports in the world.
As I've fallen in love with surfskating, I've been surprised by 1) how few people know about the sport, 2) how it's primarily focused on surf training for surfers, and 3) how hard it is to find good information on surfskating.
So I decided to do something about that.
My mission with Surfskate Love is to:
Promote the sport of surfskating far and wide and make it as well-known and popular as any other board sport.
Expand surfskating beyond surf training and show all board sport lovers the freedom and joy of street surfing.
Provide the best information on surfskating to help you learn how to surfskate and choose the right surfskate for your riding style.
Create a community of surfskate lovers who can share their surfskating tips and experiences.
​
I can't help it — I have the Surfskate Love! And I hope you catch it from me.
Choose YOUR Surfskate Now with the Ultimate Surfskate Buyer's Guide
Answer 8 quick questions to reveal the PERFECT surfskate for YOU and your riding style!
Get surfskating confidently in 48 hours or less or your money back
Learn how to pump, how to turn, how to stop, and more.